NOURISHMENT BOOSTS HEALTHY HAIR GROWTH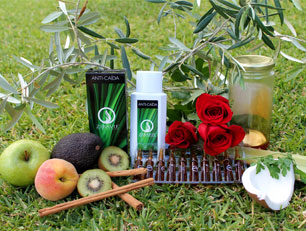 Ziravie®Hair Nutrient is 100% natural combination of essential oils, fruits and plant extracts, designed to nourish the scalp & hair root system to sustain healthy, hydrated and glossy hair growth.
Our unique extraction and processing method is chemical free, which maintains a high level of nutrient purity, and preserves the goodness of the nutrients.   That's what makes Ziravie®Hair Nutrient unique. It re-establishes the natural capability of the scalp to provide results.
 Ziravie® Hair Nutrient is quick to absorb, simple to use, and the results speak for themselves
Ziravie®Hair Plus and Ziravie® Hair Loss Defence help to re-establish the natural capability of your scalp and hair root system to produce and sustain healthy, hydrated and glossy hair growth, naturally.
We gather the most effective ingredients for hair treatment that Nature offers, utilize a unique method of extraction and refinement of the micro-oils and nutrients, in order to conserve the high level of nutrient purity for effective nourishment. The Ziravie® Nourishment Oil is 100% natural enabling the scalp to absorb the nourishment in a quick and effective manner, which, in turn, shows quick results. Ziravie® Nourishment Oil retains it's natural form ~ 100% natural, (chemical free) and is presented to you in a user friendly bottle for ease of use, and conservation of nutrient integrity.
Ziravie® recommends traditional methods of application, proven to be effective for generations, which enable your scalp and hair follicle to absorb the wholesome nutrient into the scalp swiftly and with ease. Simply massage Ziravie® Nourishment Oil into your scalp with your fingers ~ the natural way!
Have you ever noticed the various heads in an elevator? Some have plenty of hair while others not. Have you ever wondered why?
The answer lies in Nourishment.
The scalp is part of the skin organ, which works with the hair root system to form an enabling environment for the production of healthy hair growth.
When this area is fully functional, it produces healthy hair growth, which is naturally manageable. However, if any part of this system weakens, hair growth suffers.
The Hair Growing System
With each hair wash, the scalp loses it's natural oils and hydration, depleting it's capability gradually. In addition, exposure to harsh environments, excessive heat, cosmetics that contain chemicals, etc. affect the health of the scalp. When these natural oils are not replenished, the scalp ceases to be fertile and is unable to support hair growth. Therefore, the scalp needs to be continually rejuvenated through nourishment.
The Hair Root System maintains its health primarily through internal nutrition from the blood system, or through external nutrition through the scalp. Hair challenges suggest that the hair root system is receiving insufficient nourishment. These could include: genetics, mental and emotional stress, lack of correct nutrition, sleep, exercise etc.
Traditionally, daily personal care included scalp care and maintenance. Massaging the scalp with oil maintained scalp health, and hence, healthy hair growth.
The Nourishment Solution
Ziravie® Nourishment Oil is external nourishment in a bottle, to be topically applied and delivered to the roots, where it is needed the most.
Ziravie® Nourishment combines of the best nourishing essential oils and plants that Nature has to offer, Scientifically extracted in a manner that preserves its nutritional integrity and applied the Traditional Way for maximum effectiveness.
Ziravie® Hair Nourishment works for all types of hair & scalps; both genders, all ages, and most conditions. It nourishes the root system to maintain, revive and sustain healthy hair growth, the Natural Way.
Key ingredients
PURE ESSENTIAL OILS INCLUDING:
Coconut (cocos nucifera); Olive (olea europea); Aragan (argania spinosa); Avocado (persea gratisima); Eucalyptus (eucalyptus globulus); Jojoba (jojoba oil); & Wheatgerm Oil (triticum vulgare);
INFUSED NATURALLY WITH:
Peach (prnus persica); Apple (pyrus malus); Mandarin (citrus tangerina); Kiwi (actinidia chinensis); Aloe Vera Leaf (Aloe Barbadensis); Parsley (carum petroselinum); Cinnamon (cinamomum loreiri); Honey (mel) & Rose Petals (rosa centifolia)

Order Now